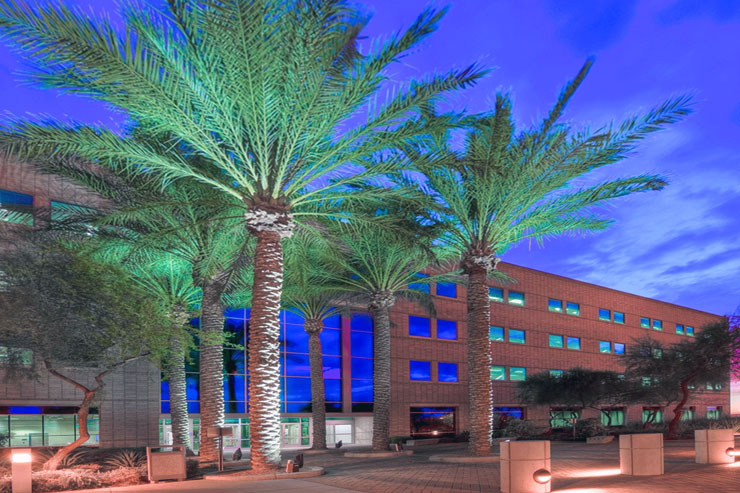 Intel Corp. announced plans on Tuesday to invest $20 billion to build two new semiconductor factories at its Chandler campus.
CEO Pat Gelsinger said the expansion will allow Intel to become a major provider of foundry capacity in the U.S. and Europe to serve customers globally.
The new chip factories, known in the industry as fabs, are expected to create over 3,000 permanent high-tech, high-wage jobs; over 3,000 construction jobs; and approximately 15,000 local long-term jobs, according to Intel.
Planning and construction activities are expected to begin immediately, according to Santa Clara, California-based Intel (Nasdaq: INTC).
"Intel is proud to expand our U.S. manufacturing presence with two new factories in Arizona," said Keyvan Esfarjani, Intel senior vice president in manufacturing and operations. "For more than 40 years, Arizona has been vital to Intel's ability to create the world-changing technology we all depend on. This new investment will advance the ecosystem of innovation we've helped create in Arizona and increase U.S. semiconductor manufacturing capacity."
The two new fabs will be located at Intel's existing Chandler site, known as the Ocotillo campus, bringing the total to six fabs at the site.
"Intel's continued expansion of its largest, most advanced manufacturing site in the world exemplifies the presence of innovation in Chandler," Chandler Mayor Kevin Hartke said in a statement. "A talented workforce, excellent quality of life, proactive planning and decades of infrastructure investments enable global innovators like Intel to excel in our community."
Chip shortage
This news comes just months after Intel announced in October that its long-awaited $7 billion expansion in Chandler was operational, making the southeast Valley semiconductor fabrication factory the chipmaker's largest in the U.S.
Complex technologies like 5G, AI and quantum computing demand more capable computer chips. But the Covid-19 pandemic induced a global shortage of these chips, most of which are produced in Asia. U.S. Secretary of Commerce Gina Raimondo said the planned fabs in Arizona will help bolster national security.
"Intel's announcement is a great example of the benefits that come from investing in domestic semiconductor manufacturing capabilities," Raimondo said in a statement. "We can create jobs, strengthen our national security as well as the security and resiliency of our supply chains. And we welcome additional announcements on U.S. manufacturing commitments by other firms as well."
Intel currently employees more than 12,000 people in Arizona and the company estimates it generates an excess of $8 billion in economic impact in the Valley each year.
Unlike other companies in the space, Intel is an Integrated Design Manufacturer, meaning it both designs and manufacturers computer chips. Competitors like AMD and Nvidia only design, while Taiwan Semiconductor Manufacturing Co. Ltd. and Samsung are contract manufacturers that do not design chips.
Intel CEO Gelsinger dubbed Intel's next phase as "IDM 2.0" and said that the company would increase production internally and boost outsourced production to strategic partners like TSMC.
Semiconductor hub
The Phoenix area is on the global stage for chipmaking as TSMC plans to build at least a $12 billion factory on 1,128 acres of land in north Phoenix. That plant is projected to create more than 1,600 jobs, with more than 5,000 new manufacturing jobs expected to be created in the Valley in the next four years, according to Greater Phoenix Economic Council officials.
With Intel producing more chips internally and outsourcing more to TSMC, it may make Arizona even more appealing for international TSMC suppliers to build here. Several suppliers have already announced plans to follow TSMC to Arizona.
The $20 billion investment is the first part of the new Intel Foundry Services division, which has been established to increase the company's capacity to produce chips and support commercial and government customers. Randhir Thakur was Intel's chief supply chain officer, but he's taken over the new division as president of Intel Foundry Services.
At a press conference Tuesday, Gov. Doug Ducey said that Arizona is famous for the Five Cs in its economy, but today the state can add a sixth: chip.
"We've demonstrated that we can win business no matter how diverse it is, whether you're talking about autonomous vehicles, electric cars, hydrogen powered trucks and now to be the real headquarters in the United States, and soon the world, for semiconductors, it shows that Arizona is providing opportunity for all," Ducey said.