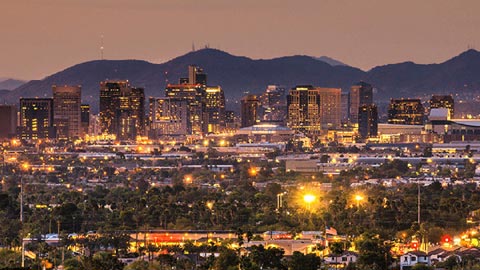 Phoenix is among the top cities best poised for economic recovery in 2021, according to Milken Institute's Best-Performing Cities report.
Phoenix ranked seventh among large cities, up five places from its rank last year. Provo, Utah came in at No. 1 for large cities in the 2021 report, which ranks cities based on jobs, wages, growth in the technology sector, housing affordability and household internet access.
"The region's generally low cost of living has attracted significant in-migration from western states in recent years, fueling consumption and housing construction," the report stated. "As of September 2020, total housing permits in the Phoenix (metropolitan statistical area) were up 29.9% year over year, despite weak construction activity during the pandemic."
Phoenix's assets include strong population and employment growth, and a diversifying technology industry in the region. However, the report also cautions that rising rents and housing costs need to be dealt with to keep Phoenix's competitive advantage. Arizona's cost of living is 3.6% below the national average and rents grew 7% year over year in 2019, according to the report, ranking Phoenix 98th for housing affordability among large cities.
"Proactive investment in affordable housing stock can help prevent Phoenix from becoming a victim of its own success," the report states. According to data from the Greater Phoenix Economic Council, the Phoenix area has recovered 85% of the jobs lost during the pandemic-related downturn. The region lost 214,400 jobs from February 2020 to April 2020 and has regained 181,800, according to data from December, the most recent data available. The region is expected to recoup all the lost jobs by the end of 2021, according to the University of Arizona's Economic and Business Research Center.
The unemployment rate in Phoenix fell from a high of 12.5% in April 2020 to 6.9% currently, but the labor force is still down about 30,000 people compared with February 2020.
The city of Phoenix itself has been able to avoid service and employee compensation cuts in the wake of the pandemic, city officials told the Business Journal. The revenue the city has collected from taxes on online sales have more than offset other losses in revenue for the city.